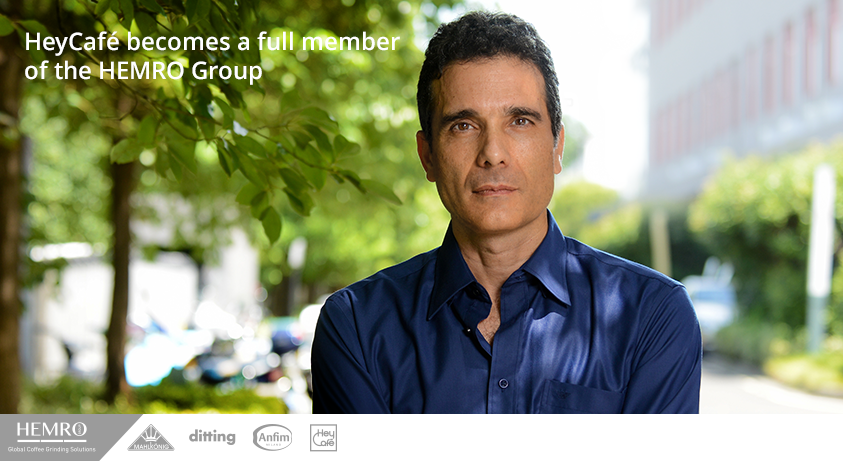 HeyCafé becomes a full member of the HEMRO Group
In 2016, HeyCafé and the HEMRO Group engaged in a meaningful dialogue focused on a strategic collaboration. As both parties recognized early on, the increasing market demand for entry level grinding solutions was not being served at a global level. Incorporating the coffee and espresso grinders of HeyCafé into the HEMRO's group of brands was the ideal path towards achieving a broader product portfolio that offers grinding solutions for any set of requirements.
The collaboration was an immediate success. HeyCafé was intensively promoted through the HEMRO Group's global sales and service network which benefited from having an additional range and category of grinders to offer. Customers from all parts of the world discovered the perfect entry level models while the HeyCafé brand gained great exposure. Its quality focused reputation still continues to grow throughout the global coffee industry.
Following this progress, HeyCafé will become a full member of the group as of 2019. In close cooperation with the dedicated teams of the HEMRO Group, HeyCafé continues to focus on providing grinding solutions for the dynamically developing coffee industry in Asia as well as for customers around the globe.
Ilan Maimon, the passionate visionary founder of HeyCafé, is an engineer by profession and a committed coffee enthusiast by heart who never stops exploring and creating innovative ways of doing things.
"Coffee is our passion. Grinding is our purpose", says Ilan Maimon. "The enjoyment of a good cup of coffee unites us with everyone working in the coffee business. And our job is to provide smart grinding solutions that fit perfectly into the workflows at the coffee bars while providing grinding qualities that contribute to a great taste experience."
However, Ilan has a lot more to bring to the table than pure creativity and charisma. Building on decades of profound experience in engineering and production, Ilan Maimon immersed himself in all crucial processes at the HEMRO Group's global Innovation & Technology hubs. In order to further contribute to the group's success story, the HEMRO Group is excited to announce that Mr. Maimon will now assume the position of Managing Director Innovation & Technology of HEMRO Group.
HeyCafé is a shining example of China's spirit to drive innovation forward while maintaining efficiency and quality. This spirit is what Ilan Maimon will now carry with him into the management team of the HEMRO Group.
"Our skilled and experienced engineers make use of the most recent insights and tools to design HEMRO grinders according to the customers' needs. They keep their focus on what is truly necessary", explains Ilan.
The result is a versatile range of products, comprised of innovative grinders suitable for a wide variety of modern applications – a perfect portfolio of "Global Coffee Grinding Solutions" designed to serve any customer perfectly and to set new coffee grinding benchmarks in the years to come.
---