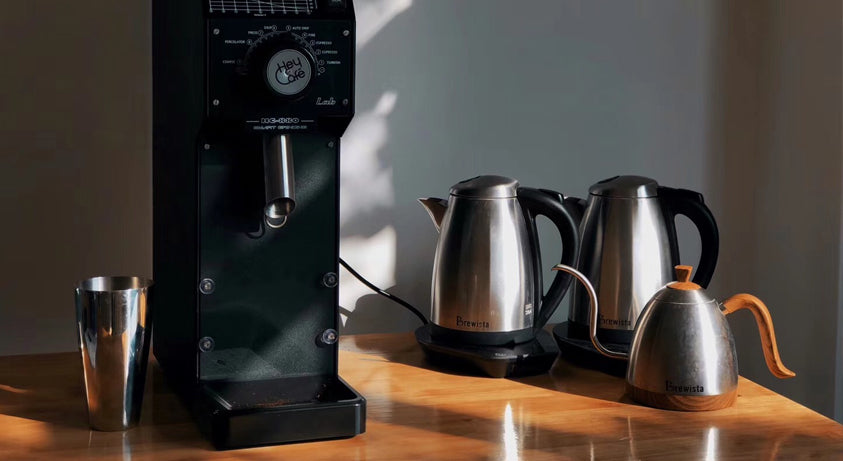 Pu'er Senyu Coffee trusts in HeyCafé's HC-880 LAB
The competition on the international green coffee market is tough. Both, the price and the quality of the coffee are important factors to be kept in focus by coffee farmers today. A challenge that asks for reliable and affordable tools, as any detail can make a difference when it comes to green coffee sales.
Pu'er Senyu Coffee, one of the largest coffee farmers in China, shares some insights on how HeyCafé's HC-880 LAB helped them reaching and keeping a new coffee quality standard, which led to substantial growth for the company.
"The demand for specialty coffee went up significantly during the past years." says Jun Xian Chen, founder of Pu'er Senyu Coffee. He himself had worked at Starbucks for 6 years until he felt that time had come to go back to the origin. His parents had been coffee farmers, too. "I wanted to work where I would be able to lay the foundation for coffee quality." explains Jun Xian Chen. Today his company exports green coffee mostly to European customers, that value the consistently good quality that Pu'er Senyu is providing.
"We had tested several coffee grinders at our cupping laboratory before. However, neither one convinced us in the same way as HeyCafé's HC-880. Not only did we like the shape and overall design, but it was the performance of its 84mm burrs that really amazed us. We were happy to finally have found a grinder that would grind fast, sustain high workloads but produce a consistent grinding quality at the same time. – And all of this at an unbeatable price." says Jun Xian Chen.
Most recently the new LAB version of the HC-880 got added to their cupping laboratory. Jun Xian Chen explains: "The tubular spout was an important upgrade. It guarantees for the most accurate dosing, since all the ground coffee gets caught reliably."
HeyCafé is honored to receive such a positive feedback. Becoming part of the success stories of coffee entrepreneurs motivates the Chinese grinder manufacturer to further develop its portfolio of grinding solutions that meet the requirements of quality- and cost conscious coffee professionals in Asia and around the world.
---