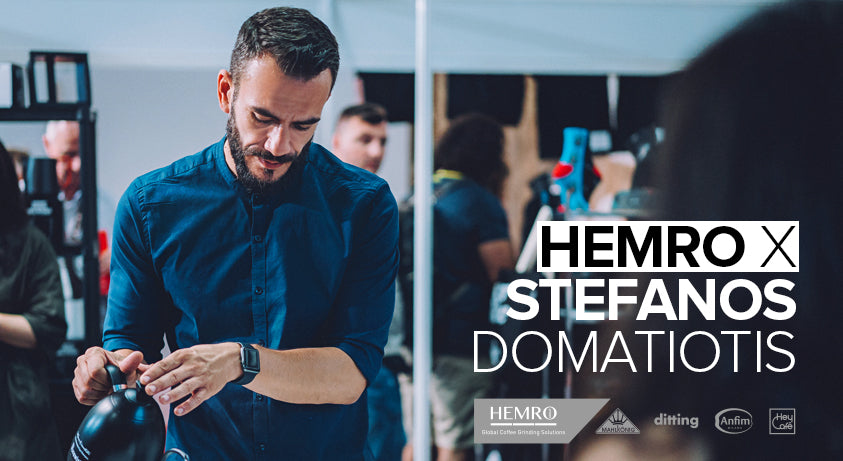 Stefanos Domatiotis becomes brand ambassador for the Hemro Group
Being a World Brewers Cup Champion, certified trainer of the Specialty Coffee Association and a judge at many international competitions, Stefanos Domatiotis knows very well what it takes to brew a perfect cup of coffee: precision in all parameters and a good dose of genuine passion.
Last year, the charismatic coffee expert from Greece redefined the premium standard for filter coffee with its innovative hand brewing dripper the GEM Series.
The smaller infusion opening in the innovative lid of the diamond shaped porcelain filter and the especially developed ribs inside help preventing usual brewing faults in order to enable a uniform extraction.
As the new brand ambassador for the coffee grinder brands Mahlkönig, Anfim, Ditting and HeyCafé, Stefanos Domatiotis brings along his comprehensive experience, expertise and last but not least his passion for coffee to help taking new steps in coffee grinding research. His cooperation with the engineering team of the Swiss Hemro Group has a clear focus on product optimizations as well as on the development of new grinder innovations.
At the upcoming international trade fairs and events, Stefanos Domatiotis will also present the most recent coffee grinder generations of the group. Ditting's brand new 807 product family, its shop grinder variant as well as the 807 LAB and the 807 FILTER, deeply impressed the experienced barista and Brewers Cup Champion.
"The concept of the 807 product family is just perfect. The precision and range of the grinding results of the 807 are outstanding!" says Stefanos Domatiotis. "All three models are optimally matched to the respective use in the shop, laboratory or next to the batch brewer. The engineers in Switzerland have truly demonstrated their know-how ."
The star barista and the grinder manufacturer are looking forward to an intensive knowledge exchange and cooperation. With the powerful combination of their perfectly complementary coffee expertise, Stefanos Domatiotis and the brands of the Hemro Group are now working together to level up the highest coffee enjoyment. As a result of this collaboration, the international coffee specialty industry may look forward to impressive product presentations and new innovative coffee grinding highlights during the course of the year.
---