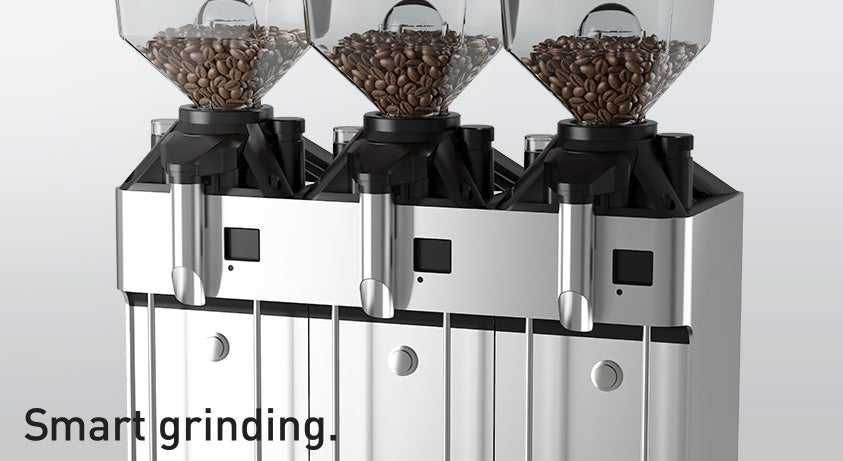 HeyCafé at the "World of Coffee" 2018 in Amsterdam
​
From June 21st to 23rd 2018, Amsterdam invites the global specialty coffee industry to share the most recent trends and innovations at the "
World of Coffee
". HeyCafé will be showcasing its portfolio of espresso and shop grinders, featuring the following highlights at the booth of the
HEMRO Group
:

Create your own powerful line-up with the H123
Shop owners looking for a versatile grinding solution with an ultimate compact space requirement, are welcome to take a look at the brand new H123. Thanks to its modular construction, an unlimited number of grinders with a footprint of 130mm 2 can be assembled side by side as one single operating unit. Its grinding discs with 64mm diameter can be set to grind for any brewing method from Turkish fine up to French press - leaving close to zero retentions in the spout. The actively air cooled belt drive grinder saves the coffee's aroma and produces a minimum of noise. A line-up with the H123 coffee grinder is no less but the perfect combination of efficiency and functionality.
 Smart espresso grinding made in Asia: the HC-600
The passion for espresso beverages that has conquered the Asian markets during the course of the past decade, has been HeyCafé's inspiration to engineer its own series of versatile espresso grinders. For coffee shop owners seeking to improve the workflow at their coffee bar with a matching set of functionalities, HeyCafé's HC-600 is the ultimate choice. This robust espresso grinder stays cool even under higher workloads up to 9 kg per hour and is available either with a smart dosing unit or as an aroma saving on-demand version. Furthermore the smoothly designed corpus of the HC-600 features the most recent technology for noise isolation.
Reliable & convenient: the HC-880 LAB
This heavy-duty constructed grinder is the perfect reliable assistant when it comes to cupping and analyzing your coffees in your laboratory. The HC-880 LAB's stepless grind adjustment ranges all along from Turkish fine up to French press. The indexed scale helps you finding the perfect setting for your precious coffee beans. And the tubular spout with the bag clip ensure that the ground coffee's entire aroma will only end up where it is supposed to be: at your disposal for cupping and analyzing.
Every machine of the product range of HeyCafé is engineered and assembled with great care and devotion - without leaving cost effectiveness behind. This is how HeyCafé provides smart grinding for everyone.
 
HeyCafé invites all visitors of the "World of Coffee" to stop by at booth-no. B33-C34.
---